And then to the autumn festivals, home improvement season, it is savvy decoration owners to buy building materials to make a great opportunity to make a big profit! September 13 - October 12, fashion boutique bathroom brand Dove bathroom in the country to start "Dove bathroom Golden Jade" eleven huge promotional activities, so that consumers not only experience the benefits, more enjoyable The quality of the fashion.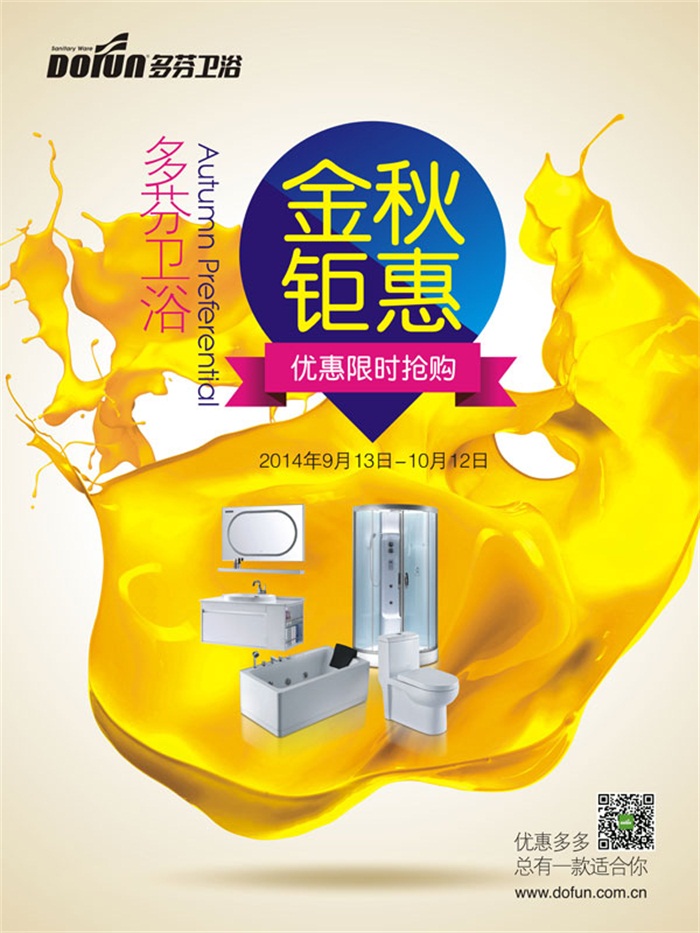 Eleven Dove bathroom promotions
Eleven promotions huge benefit wave swept across the country
During the twelfth period, Dove's variety of bathroom products can be described as "open position" to ultra-low prices to the majority of consumers; products cover bathtub, steam room, shower room, bathroom cabinet, shower, toilet, etc. Launched the purchase price, for your free choice.
Price discount service is not discounted
Dove bathroom is a real boutique kingdom, gorgeous is not extravagant. Whether you are a city upstart or a petty bourgeoisie; whether you are excellent picos, or IF or X generation, "Dove" world-quality bathroom products are not your age, your status, your income, You and your family on the trend of the new life of the bathroom real real experience. Dove products brilliant, reliable quality and outstanding, functional and practical, affordable value, always meet your modern life one after another new ideas!
Dove bathroom in the country set up a number of cities in the agents, the establishment of a unified store image, with a sound marketing system, the products are exported to Europe and the United States, the Middle East, Southeast Asia, South Africa, Australia, more than 80 countries. Products through the CE, ETL, IS9001, ROHS and other international certification authority, and by PICC quality underwriting, the product is awarded the "green products" title.
Dover bathroom has not been to fight low price, but to fight the product, fight the quality, fight affordable, and to the consumer real service. Pre-sale, sale, after-sales service, Dove bathroom are required to achieve "expert services, the enjoyment of the nobility."
Dove bathroom double section of the promotion, said the benefits and intimate service have to ask you to visit Dove bathroom store experience, enjoy the custom for your custom bathroom space, enjoy the distinguished shopping experience, this 11 holiday you!