With the arrival of 3.15 consumer protection day is coming, Dove bathroom also dealers across the country launched a new year first round of promotions; and "Dove love, true 3.15" as the theme, the most valuable price feedback The majority of consumers.
Promotional products cover bathtub, steam room, shower room, bathroom cabinet, shower, toilet, etc., and launched the purchase price, for your free and smooth. In addition, Dove bathroom also introduced a variety of products perfect combination, so you value to enjoy.
Whether it is a single product special or package combination price Dove bathroom can make you feel real benefits; do really none other consumers, the most preferential prices to enjoy the most reliable quality and the most comfortable service.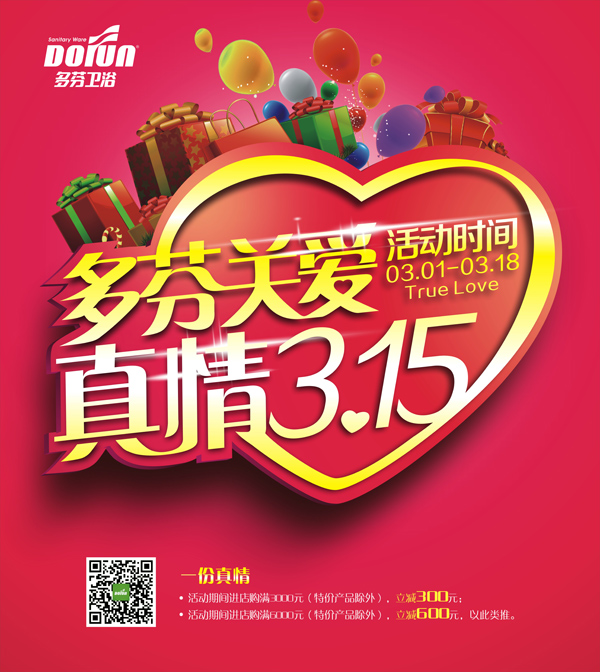 Dove Sanitary Ware 3.15 Promotions
Product refined and not expensive life, easy to have
Dove bathroom is a real boutique kingdom, gorgeous is not extravagant. Whether you are a city upstart or a petty bourgeoisie; whether you are excellent picos, or IF or X generation, "Dove" world-quality bathroom products are not your age, your status, your income, You and your family on the trend of the new life of the bathroom real real experience.
Dove products brilliant, reliable quality and outstanding, functional and practical, affordable value, always meet your modern life one after another new ideas!
Product quality is guaranteed
Dove bathroom in the country set up a number of cities in the agents, the establishment of a unified store image, with a sound marketing system, the products are exported to Europe and the United States, the Middle East, Southeast Asia, South Africa, Australia, more than 80 countries. Products through the CE, ETL, IS9001, ROHS and other international certification authority, and by PICC quality underwriting, the product is awarded the "green products" title.
Rest assured, satisfied and return
Dover bathroom has not been to fight low price, but to fight the product, fight the quality, fight affordable, and to the consumer real service. Pre-sale, sale, after-sales service, Dove bathroom are required to achieve "expert services, the enjoyment of the nobility." For each of the customers to provide high-quality and convenient service, so that the majority of customers rest assured that the satisfaction and return.
More information Welcome to the local Dove bathroom store consultation!